The expansion of London's Ultra Low Emission Zone (Ulez) has been a point of contention amongst both politicians and the public.
The High Court has now ruled that expansion of the zone is lawful, after five Conservative-run councils had challenged the Labour mayor of London's plans.
It was also a big issue in the Uxbridge and South Ruislip by-election.
What is Ulez and why is it controversial?
A £12.50 daily charge applies for driving in the Ultra Low Emission Zone, commonly referred to as Ulez, if the vehicle doesn't meet certain emission standards.
Boris Johnson decided to introduce it when he was the Mayor of London. It then came into effect in April 2019. By this time, Labour's Sadiq Khan had become Mayor.
Initially it covered the same central area as the Congestion Zone, before widening out to the North and South Circular roads in 2021.
In November 2022, a further expansion to cover all London boroughs was confirmed. This is due to start on 29 August 2023.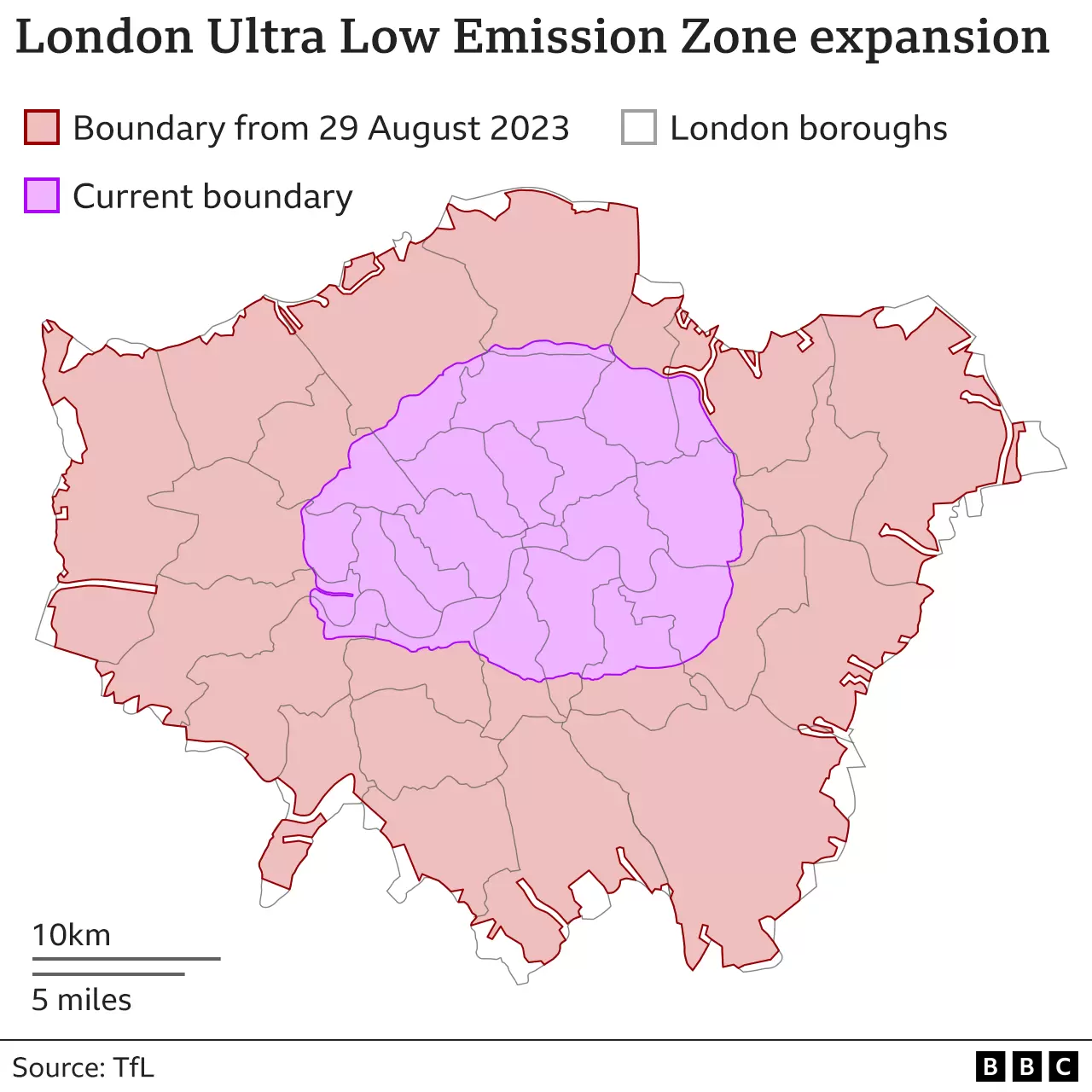 The mayor's office said the expansion was needed to tackle air pollution, congestion and the climate emergency.
Some other UK cities have their own, different clean air zones.
Why are such zones introduced?
Low emission zones have been introduced to clean up the air, with the aim of making people healthier and reducing the burden on the NHS.
Petrol and diesel vehicles emit the CO2 that warms our planet, but this scheme is principally aimed not at fighting climate change but reducing levels of two key air pollutants – nitrogen dioxide (NOx) and fine particulate matter (PM2.5).
Those pollutants have been blamed for causing thousands of premature deaths and stunting the growth of children's lungs.
What scrappage schemes are available?
For the London Ulez expansion, £160m in total has been set aside for a scrappage scheme.
The scheme was initially open to people on low incomes or disability benefits, some very small businesses and London-based charities.
However, that scheme will be extended to all Londoners from 21 August 2023.
Anyone with an eligible vehicle who lives in one of the 32 London boroughs or the City of London will be able to apply to scrap a car or motorcycle, Transport for London has said.
Eligible drivers can get up to £2,000 for scrapping a car. The amount of money on offer differs for vans and motorbikes.
Changes to the scheme's criteria were made in June and August.
There is also a grace period for small businesses and charities who have already ordered a new compliant van or minibus, or booked retro-fitting.
How do I know if my car is Ulez compliant?
Transport for London has an online 'Check your vehicle' tool where people can enter their number plate and the country where their car was registered to see whether they will need to pay the £12.50 per day Ulez charge.
Cars need to meet minimum emissions standards to avoid paying the charge.
Petrol cars generally meet the standards if they were first registered after 2005, while diesel cars generally have to be newer than September 2015.
When does Ulez expand?
The scheme is due to expand to cover all London boroughs from 29 August.
Transport for London has a map showing where it will operate and a tool to check which postcodes will be covered.
Why is Ulez controversial?
The latest expansion of Ulez has proved divisive. Clean air campaigners support it.
However, some residents, businesses and politicians have expressed serious concerns. They include the financial impact during a cost of living squeeze, and the nine month-long notice period.
Some people affected say the scrappage scheme won't help them. The cost of second-hand Ulez-compliant cars has also risen.
Five Conservative-run councils launched legal action over the decision to expand Ulez, although the High Court dismissed their challenge. There have also been public protests.
The mayor has defended the plan, arguing it is necessary to help prevent health conditions related to air pollution and even excess deaths. Preparations such as installing cameras have continued.
Has the existing London Ulez made any difference?
The number of older polluting vehicles that have entered the Ulez has fallen dramatically with 97% now meeting the cleaner standards.
Within that area it is estimated that NOx emissions have fallen by 26% since 2019 with PM2.5 emissions falling by 19% over the same period.
Air quality has improved as a result but all Londoners still live in areas exceeding World Health Organization guidelines for both pollutants.
Do other countries in Europe have similar schemes?
There are low emission zones in a number of European countries, and they vary by vehicle type and emissions.
Italy has the most zones in Europe – some of them permanent, many seasonal – followed by Germany, according to the Urban Access Regulations website. In Paris, a zero emission zone is planned for 2030.
Culled from BBC