The five people aboard the submersible that went missing on Sunday were presumed dead on Thursday, after an international search found debris from the vessel near the wreckage of the Titanic. A United States Coast Guard official said the debris was "consistent with a catastrophic implosion of the vessel."
   "On behalf of the United States Coast Guard and the entire unified command, I offer my deepest condolences to the families," the official, Rear Admiral John Mauger, said in a news conference on Thursday.
   A remote-controlled vehicle had located the debris, including the submersible's tail cone, about 1,600 feet from the bow of the Titanic on the ocean floor, he said.
   Stockton Rush, the chief executive of OceanGate, the company that operated the submersible, was piloting. The four passengers were a British businessman and explorer, Hamish Harding; a British-Pakistani businessman, Shahzada Dawood, and his teenage son, Suleman; and a French maritime expert, Paul-Henri Nargeolet, who had been on over 35 dives to the Titanic wreck site.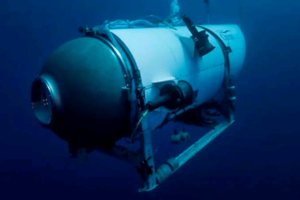 For days, the search was treated as a race against time and the dwindling supply of breathable air in the submersible, named the Titan. When the 22-foot-long vessel lost contact with a chartered ship on Sunday morning, it was more than halfway into its dive to the wreckage of the Titanic, and believed to be equipped with only four days' worth of oxygen. Coast Guard officials said on Thursday that it was too soon to determine when during the dive the implosion occurred.
   Against ever greater odds, rescue workers said they were holding out hope that the Titan could still be intact and the five people aboard still alive inside — hopes that were dashed on Thursday.
   Earlier, a senior U.S. Navy official said on Thursday that the Navy had, through acoustic analysis, "detected an anomaly consistent with an implosion or explosion in the general vicinity of where the Titan submersible was operating when communications were lost."
   The official said that the identification was "not definitive," the information was immediately shared with the search effort, and that the decision was made to continue searching to "make every effort to save the lives on board."
   Leaders in the submersible craft industry warned for years of possible "catastrophic" problems with the vehicle's design. They also worried that OceanGate Expeditions had not followed standard certification procedures.
   OceanGate has provided tours of the Titanic wreck since 2021 — for a price of up to $250,000 per person — as part of a booming high-risk travel industry. The company has described the trip on its website as a "thrilling and unique travel experience."
   The Titan squeezed five passengers into a tight space with no seats, only a flat floor and a single view port 21 inches in diameter.