The Carnival is one of the longest running street parties in the world and the largest street party in Europe.
Over two million people, including thousands of tourists, attend each year to follow the three-mile parade through W10.
Expect an amazing parade showcasing the best of mas dancing, soca, calypso, steel bands and sound systems.
When is Notting Hill Carnival 2023?
Saturday 26 August to Monday 28 August.
What is the Notting Hill Carnival 2023 line-up?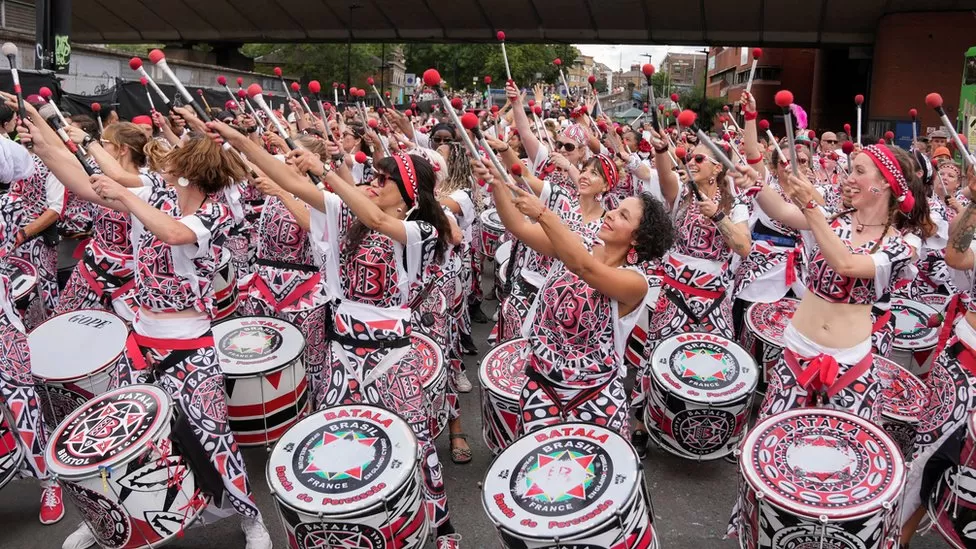 Saturday 26 August
Panorama. The UK's biggest steel pan competition at Emslie Horniman Pleasance Park, 16:00-23:00 BST.
Sunday 27 August
J'Ouvert – Sainsburys Ladbroke Grove, W10 6HJ: From Jour ouvert in French meaning opening of the day is one of carnival's best kept secrets. Kicking off just before sunrise, the hardcore revellers dance into the daybreak to welcome the carnival. Expect to see colourful paints and powders in place of the mud and oil of Caribbean tradition from 6:00 BST.
Official opening ceremony, Mas (masquerade) Judging Point, Great Western Road. Traditionally carnival is opened by local residents and participants, accompanied by the organisers and friends at 10:00 BST.
Children's parade. This family-friendly morning event sees kids dancing in the streets in their homemade carnival costumes.
Traditional parade. Features mas, soca, calypso and much more.
Food stalls. There are hundreds of them, including Jamaican jerk chicken, Trinidadian roti and Guyanese pepper pot.
Sound systems. If you love to dance in the street but do not want to be "on di road" then sound systems are where it's at. Notting Hill Carnival's sound-system tradition is rooted in Jamaican culture and reggae music but you can hear everything from rare groove to house to samba. Kicks off at 12:00 until 19:00 BST.
Monday 28 August
Adult's day parade. Expect lots of dancing, parading and partying.
Food stalls and sound systems
Live stages
Soca City, Emslie Horniman's Pleasance Park, W10 5DH, 12:00-19:00 BST.
Powis Square Stage, W11 2AY, 12.00-19.00 BST.
How to get to Notting Hill Carnival 2023?
– By Underground
As Notting Hill's roads will be closed off throughout the bank holiday weekend, you will not be able to get an Uber or catch a bus into the heart of the action.
Nearby Tube stations within walking distance of the main event including Notting Hill Gate, which will be exit-only from 11:00 to 19:00 BST each day.
Royal Oak and Westbourne Park will be exit-only until 18:00 BST, with Royal Oak closing thereafter and Westbourne Park closing after 23:30 GMT.
To leave the area before these times, you may have to walk up to 30 minutes to find an open Tube station.
Latimer Road will be closed from 23:30 BST on both days. Avoid Ladbroke Grove and Holland Park as they are both closed on Sunday and Monday.
There will be no interchange between the Circle and District lines and Central line on both days.
Do I need a ticket for Notting Hill Carnival and how safe is it?
The carnival is free for everyone but the police crowd-control a lot and you may not be allowed in to certain areas at certain times because streets get sectioned off. If you have mobility issues or get anxious in crowds, it is better to arrive early and leave early.
Police say this year there has been particular work devoted to identifying particularly dense spots along the carnival route, with 12,500 officers on the route.
Police are also trialling crowd safety camera technology to more quickly detect overcrowding, as well as deploying mounted officers throughout the parade.
Like last year, there will be a safe area for women and girls with specially trained professionals, with the Met working with charity Safer Spaces.
Police advise to:
Go with the flow of the crowd, don't try and walk against it.
Don't just rely on your phone, set a meeting place with family or friends in case you lose one another.
Keep your belongings with you at all times.
Plan your journey in advance; do not drive your car to the area, know your public transport options and routes to and from carnival
Make travel plans before you leave – Transport for London(TfL) has a dedicated website showing all the best and quickest options.
Travel to Tube and railway stations such as Shepherds Bush or Bayswater and walk in. Ladbroke Grove, Notting Hill Gate and Westbourne Park will be exceptionally busy. Please consider this when leaving the area also
Performers in the procession on children's day at the Notting Hill Carnival
Culled from the BBC