A group of senior military officers in the Central African country of Gabon said they have cancelled the elections and seized power because polls held over the weekend were not credible.
The officers, in a television announcement on Gabon24 during the early hours of Wednesday morning, revealed this shortly after incumbent President Ali Bongo was announced to have won a third term as president.
The military has dissolved all state institutions and closed the country's borders. They said they represented all security and defence forces of Gabon.
The announcement came shortly after the state election body said President Ali Bongo Ondimba had won a third term in office in Saturday's disputed elections.
"In the name of the Gabonese people … we have decided to defend the peace by putting an end to the current regime," the officers said.
The Gabonese Election Centre said Bongo had secured 64.27 percent of the vote compared with 30.77 percent for his main challenger Albert Ondo Ossa, after a process beset by delays.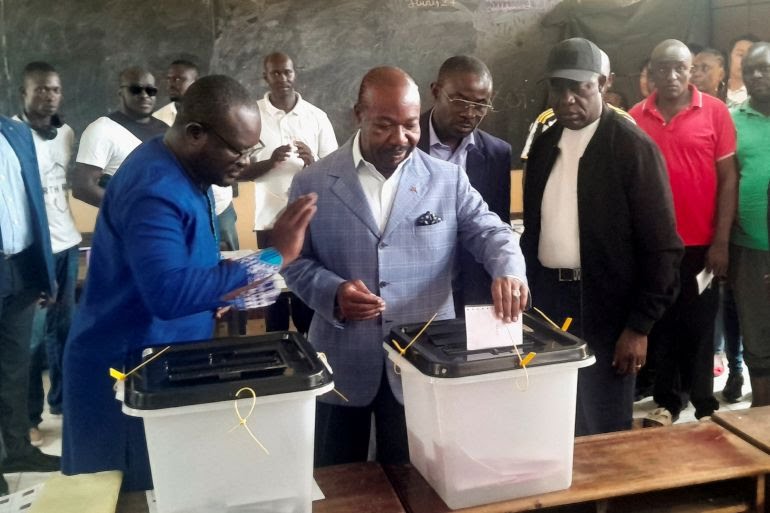 The opposition camp, on Saturday, insisted the election was a "fraud orchestrated by Ali Bongo and his supporters" after the internet was cut and a curfew imposed.
French media outlets France 24, RFI and TV5 Monde were also banned, accused of "a lack of objectivity and balance in connection with the current general elections", the government said.
Bongo was the candidate for the Gabonese Democratic Party (PDG), the party founded by his father, Omar Bongo, who led Gabon from 1967 to 2009. After his death, his son, then the defence minister, took his place as president and has been in power ever since.
So, far nothing has been revealed by the military concerning where the president is.
Tensions had been running high amid Saturday's vote with the opposition pushing for change and an end to the Bongo family's dominance of Gabon.
Following the military announcement, the Reuters and AFP news agencies reported the sound of gunfire in the Gabonese capital, Libreville.