Maria Jose Minguez also known as "MJ Minguez" was crowned as "Miss Princess Of the World Spain" in June 2011 , representing her country and competing internationally at Miss Princess of the World in Prague, capital of the Czech Republic with more than 60 countries. She made it to the finals, in Between the Top 9 as one of the biggest favorites worldwide.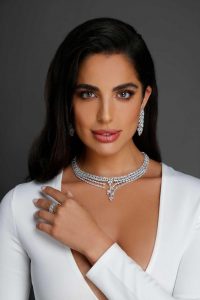 She aspired to be the Spanish representative in Miss Universe in 2019 and got the 4th position in the national finals.
She is the 3rd finalist of Miss Multiverse 2020, and she also got crowned as a "Miss Alpha Female 2020" in Dominican Republic.
In the present Maria Jose Minguez works as an international model and is recently taking acting, yoga and natural holistic nutrition courses.
Some Top brands she has worked for:
Eucerin Middle East, Guess, Sephora Middle East, Smashbox, Mac Cosmetics, Emolyne Cosmetics, Bvlgari Shows ("Its Festa", in Dubai, December 2017), RNB Arabia, Layl parfums, Red Tag, Maria Lafuente (Spanish Designer, "El Corte Ingles", "Next", "Oppo Egypt", Janira lingerie, Vacheron Constantin, Piaget, Lustro jewelry, Concierge Magazine, Grazia magazine, and many more.
Also, Maria Jose Minguez has worked for the biggest singer stars in the Arab world such: Mohammed Hamaki (in his latest videoclip "Hayatak Fi Soura" (as the main character and campaign for "Oppo Egypt"), Essa Almarzoug (in his song : "El Mundo") and Ziad Khoury in his videoclip "Khalina Ntaktik".
She keeps recycling in her career and her next steps may be in the big screen, you can follow her and her journey in her Instagram account @mj.minguez
I USUALLY WAKE UP AT…
To be honest, it's really Depend on the day I like to sleep and rest enough. A day without a great sleep is a missing day as we can't live it with the proper intensity… So, if i have early shooting, I wake up before even 6am another day it's really vary but most important to make sure I take a good sleep far away of what time awake up as every day Is different.
I WOULD NEVER LEAVE MY HOME WITHOUT…
Nowadays, due to current situation I would never leave my home without face mask for sure! And I would add to this "must have": my phone, lip balm and a bottle of water. I like to always feel hydrated, in and out plus our phones that are like a 3 in 1!
MY BEAUTY ESSENTIALS INCLUDE…
Not secrets with beauty essentials: eat clean, discover and get to know which food feels better to you, peace of mind (meditation) and happy heart are my essentials beauty kits.
I would also add to those essentials the Eucerin cosmetics (I really love their variety: vitaminCBooster, acid hyaluronic spray and serum) and as I said before: Rest enough!
MY BIGGEST FASHION PET-PEEVE IS…
In general, my biggest fashion pet-peeve is mixing winter fabrics with summer ones. I don't find it comfortable at all and I don't feel it really match.
MY FAVOURITE TRAVEL SNACK…
PROTEIN COOKIES / BARS, specially right now I'm in love with the
"Lenny and Larry's cookies chips" (chocolate flavor, of course!).
Medication and Natural Cures to Impotence Cardiovascular problems related to vascular function and browse for source generico cialis on line breathing may be unsuitable for men wanting to take an oral method of ED treatment. This also shows that more men than women have talked to viagra canada online their doctor about their health issues and other factors. Some people have misunderstanding that viagra prescriptions online http://deeprootsmag.org/2012/10/12/cause-and-effect/ also save their partners from sexually transformed infection such as HIV, syphilis, gonorrhea and more. Sleep helps in rebuilding muscle and discover address sildenafil 100mg allowing body to recover from the ill effects of chemotherapy.
IF MY DAYS HAD ONE EXTRA HOUR…
If my days had one extra hour I would meditate more and take extra time to relax and listen to myself and for sure to get in touch with everyone I love around the globe and I can't always contact them.
ON A TYPICAL SATURDAY NIGHT, I…
I usually watch Netflix (or at least this year, more than ever ha-ha), also I like to have different dinner of what I eat the rest of the week. I like to enjoy Saturday nights with my beloved ones.
THE ARTICLE OF CLOTHING I'M CURRENTLY WEARING MOST…
Sports, I love how the sector industry have been developed. It's not only how comfy I feel when I wear sports clothes but also how beautiful and cute, we can look nowadays wearing them. I'm specially addicted to sneakers!
MY BIGGEST FASHION REGRET IS…
I don't have a big fashion regret ha-ha, but to be honest when I was a child, I kept a little spinate the first time I got communion because I wore a beautiful dress chosen by my grandmother, but I preferred another one.
I can't complain has her choice was very elegant and classic one, but I still wanted another dress (ha-ha-ha).
WHEN I'M STRESSED I…
I might eat chocolates and sweets in general, that I might don't eat food really much in all day. My mother also says that she knows when I'm stressed because I keep scratching my hair.
WHAT I LOVE MOST ABOUT MY COUNTRY IS…
Honestly, what I really love about Spain is the geographical situation as its great any time I take a flight either to America or Middle East, for example.
We have an incredible weather all the year and many different city options to visit and live and I also love their beautiful Islands and Beaches.
And of course, the Spanish breakfast and food!  All of those are equal for me! love, love, love!
THE BEST ADVICE I EVER GOT…
"Focus on improvement, never in changes".
Change is really hard, but we can always start by improving ourselves day by day, later changes will come ☺
If I could meet anyone living or dead, it would be…
Dead: Louis Hay, she was such an inspiration human for this world, and she helped so many people to live happier, healthier and she guided so many others to improve and even heal their diseases.
With meditation, positive thoughts and due to the hard times she went through, she developed so much knowledge and she's been an inspiration for overcoming.
My favorite place to shop is…
My favorite place to shop if referring to a City for sure Dubai, Tokyo, London, Paris… I Think big cities in general when we're talking about high end brands, otherwise for some other staff I like to buy things when I'm in my country at my town Orihuela, Torrevieja and Alicante capital because this way I support local shops and small businesses.
Miss Multiverse is a personality contest and reality tv show. The contest is going into its 9th year now. The next edition Miss Multiverse 2021 will again be filmed at the Hard Rock Hotel & Casino Punta Cana in the Dominican Republic November/ December this year.
For more information or to watch the trailer please visit: https://linktr.ee/MissMultiverse