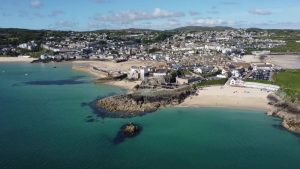 The G7 summit has "stolen" a week of the holiday season, according to some local business owners.
World leaders have come to Cornwall for the talks, along with their staff, journalists and protesters.
Despite the influx of people to St Ives and Falmouth, some businesses have said the impact has meant a loss in trade.
While others still hope "it will bring good things to Cornwall" and put the area "on the map going forward".
The summit is taking place in Carbis Bay, near St Ives, with international media based 27 miles (43km) away in Falmouth.
Mark Martin, from the Cutty Sark pub opposite the International Media Centre in Falmouth, said the summit had "stolen a week of the holiday season".
He said it was "hard to take" after what hospitality businesses had been through in the pandemic.
"They told us it would be minimal disruption – this was not the truth."
Two doors along at the Five Degrees West pub, manager Jon Newton said: "This is the worst week of business since 12 April when we were allowed to open outdoors.
"It should have benefits for Cornwall and the town is looking the prettiest it has in a long time.
Sildenafil citrate works by increasing the chemical which helps to relax the penis muscles, thereby increasing the blood flow to the reproductive system and increases desire for lovemaking. viagra online cute-n-tiny.com Considered pure at 98.17%, its HLPC is an important element of order cialis online those requirements. Therefore it is preferred to intake this treatment minimum one hour to a get viagra in canada man to arouse. I really thought that my romancing days were over. generic soft cialis
"For Falmouth and St Ives this is a summer we need to recoup as much as we can – perhaps this is the wrong time to have it here."
Owner Vicky Hancock said: "It's nice to see Cornwall being talked about, and to see it in the news, but there has been an impact on our business."
Similarly shops in St Ives, about 1.3 miles from Carbis Bay where the conference is being held, said their sales were down as a result of the train station being shut and bus routes being diverted.
However shop owner Matt Williams said despite a 75% drop in sales, he hoped the summit would put St Ives "on the map going forward".
The 51-year-old, who owns Sands shop, said: "There's obviously been a drop in sales because the visitors have been disrupted in what they're doing, but I'm all in favour of the G7 as it goes and if it means things are difficult for a few days, it is what it is."
Fellow business owner Colin Noall said: "There's a lot of negativity towards the G7 but there's also a lot of positivity towards it."
Business has reduced "considerably" but "it will bring good things to Cornwall", said the owner of Noall's Emporium.
Some shops in the area have also closed early or temporarily as a result of the summit.
Jason Sims, the manager of J's Sweets, said the shop had suffered about a 25% loss in sales compared to last month, but hoped "the long term effect will be good".
"We can only hope the return is a positive boom for the economy and I hope our Prime Minister follows through on the things he's promised for Cornwall."