Naturally, I'm not one to flaunt personal wealth or openly discuss my financial standing as a dancer and creative entrepreneur despite my long-lasting successful career. However, I want to particularly highlight our newly acquired properties in Lagos as a way to speak about the economic potential of dance.
It may come across as self-indulgence, but let's address it upfront. Recently, my partner Haji and I acquired a magnificent mansion in the serene neighbourhood of Lekki upon our return to Lagos in May.
After four years of being a research professor at the University of Florida, doubling as the Maker in Residence with the Center for Arts, Migration and Entrepreneurship, where I've initiated research in Dance and AI, as well as frequent travels between Florida, Paris, Lagos, and a demanding international touring schedule.
Our decision to fully return to Lagos aligns with our realisation that the Nigerian creative landscape is once again evolving, with Gen Z emerging on the horizon. They are sketching new norms and having expectations, not just working the culture like the millennials did, but also pursuing profitability. They are delving into the culture capital we helped cultivate, ensuring their rightful place on the global stage.
It's an exciting time, and new bodies and voices are joining the movement, testifying to the interconnectedness of the global black community, spanning Africa, Asia, Europe, America, and the Caribbean. The story of the African dance renaissance is only just beginning, and we think that our unique experience and formula is something very significant we can offer.
Despite the prevalent trend of Nigerians emigrating to Europe and North America due to the current "Japa syndrome," many are equally migrating with the culture, spreading the gospel to previously remote regions of the world, Afro dance culture has truly become a global phenomenon, returning to Lagos, however, is undoubtedly the wisest choice for us.
The QDance brand has achieved remarkable local and international success, boasting a significant profit margin. As a start up with less than a decade of entrepreneurial improvisation, we can proudly claim the status of a million-dollar company. With this achievement, it became imperative for us to go back to the drawing board and strategise anew for the future.
Investing in real estate to support the upscaling of the QDance Center became top in our priority. As our estate agent showed us various properties, allowing us to explore options that suited our preferences for tranquillity and aesthetic appeal amidst our upcoming workload, a particular white house in a private residential estate in Lekki immediately caught our attention.
While silently admiring the house, the agent casually mentioned, "By the way, Asake acquired the neighbouring property a few months ago." He intended this remark to justify the high price and perhaps influence our decision-making process.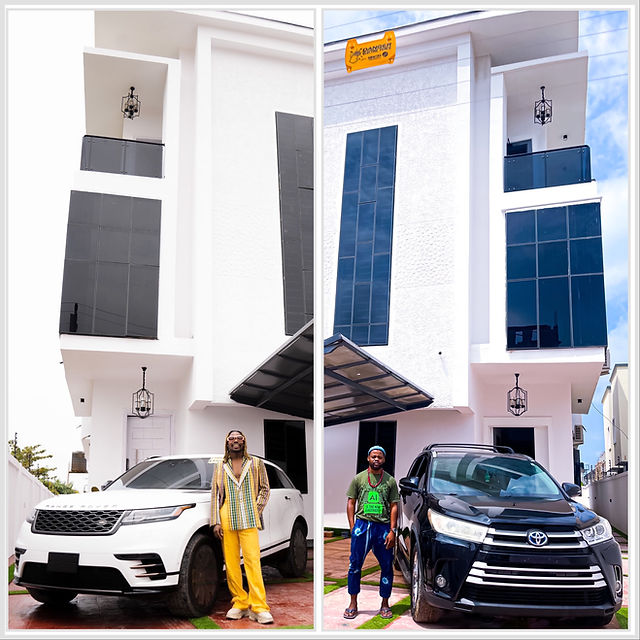 Indeed, Asake has become our neighbour for almost two months. For those who may have been disconnected from the goings of the Afrobeats world for the past year, let me introduce you to Asake and his remarkable rise to fame in the Nigerian music scene.
Asake is undoubtedly a miraculous talent, emerging as one of the most significant Nigerian artists in the past one year. The 28 years old super star is signed with Olamide's YBNL in February 2022, and by extension he immediately enjoyed a deal with Empire music for international distribution.
This collaboration allowed him to break numerous international records and win several local and international awards with his debut album "Mr Money with The Vibe", his sophomore album "Work of Art" was released to critical acclaim less than a month ago, and he has been on a nonstop tour since his rise to fame.
What makes Asake's story particularly noteworthy here is that he is actually a graduate of theatre arts from Obafemi Awolowo University. Asake, who specialized in dance during his studies, began his career as a dancer. Like many dancers, he ventured into music out of necessity. It provided an opportunity to use music in his performances without the risk of copyright infringement on digital platforms.
Moreover, if his work went viral, he could directly benefit from the royalties it generated. Additionally, it's worth considering that Nigerian dancers often harbour the belief that pursuing music or acting is the sure path to a successful career, I have lost count of how many known Nigerian music or movie stars or on air/TV personalities who actually began their career as dancers.
It's clear that if Asake had continued solely as a dancer, his name would likely remain unknown, let alone being the owner of a mansion after a breakthrough in less than a year. Dancers, particularly in Africa, often face precarious circumstances, and to have a long-lasting successful career solely in the dance field is such a rarity.
However, let me assert that personally, I am a stubborn believer in the potential of dance and its capacity to lead to a financially successful career, for that's all I've ever done in my life since the young age of 13 when it all began.
We don't all have to veer off into music or other genres to achieve such success if that is one's life goal, I want to believe that I'm a living testament, that it is indeed possible to thrive purely as a dancer, albeit through hard work, a clear vision, commitment, and resilience.
I firmly believe that dancers are the lifeblood of the creative industry. Unfortunately, the value they bring is often not commensurate with the income they generate.
Clients who seek the services of dancers in Nigeria span various domains, including music video producers, corporate organisations, fitness enthusiasts, event planners, NGOs, diplomatic missions, political organisations, marketing, communication, Ad and PR agencies, brands, nightclubs, schools, festival organisers, dance presenters, curators, visual artists, filmmakers, animators, game designers, software engineers, general dance enthusiasts, parents, and the list goes on.
Dance is always in demand. However, due to the lack of an entrepreneurial mindset among dancers and the improper structuring of their value proposition, their labour and creative energy are frequently undervalued, under-priced, and ultimately underpaid.
This is precisely where the QDance brand stands out. In our organisational chart, the artistic director and the managing director share equal burden and possess equal power and stake. We recognised that innovation usually happen when two or more sets of knowledge collide.
Often, art and business operate in different worlds, our ability to operate 'at the edge' led to new ways of doing. Over the years, we operate as a social/cultural enterprise, combining high-level creative dancing, social and community engagement, talent development, research, services, and artistry with a strong entrepreneurial practice. Our aim is to ensure that the value we bring is matched by the income we generate.
We have embraced an approach that allows us to merge passion and profit, demonstrating that dance can be a sustainable and financially rewarding career choice, with the capacity to create real jobs in a country like Nigeria, where the economic priorities make it almost impossible to make such bold statement.
When Haji and I co-founded the QDance Center in 2014, the creative landscape was still in its early stages. Despite the booming creative industry, dance remained largely marginalised. We were determined to change that.
We invested our life savings, time, and every resource at our disposal, placing a significant bet on our convictions. Over the years, Afrobeats music and its accompanying dance culture gained widespread popularity, exerting influence on music and dance cultures worldwide. The music industry became a substantial source of income for many Nigerian youths.
We firmly believe that the Nigerian dance scene is the rising industry of the Gen Z; the digital native generation characterised by their openness to diverse bodies and inclusion, entrepreneurial spirit driven by their exposure and pursuance of creative ventures, self-reliance, social consciousness, and preference for visual and interactive learning.
Despite the continuous stream of innovative, viral, and ground-breaking works produced by dance artists in digital platforms, on the international club scene, on music videos, at international dance battles, and award-winning contemporary dance pieces, the full potential of this hyper-creative and energetic industry has yet to be realised due to a lack of significant investment and infrastructure. Entrepreneurship is the ability to identify a problem, and creatively solve that problem, for the people that needs it.
Our entrepreneurial muscles are therefore, being channelled to transform dance to an art form, a communal practice, an idea, and a service in demand, by finding the necessary resources – money, people & stuffs – to turn it into a profitable career for a new and vibrant generation of dancers. Our success story over the past decade has proven that dance is a profitable venture if properly harnessed, and the business model we've developed is surely transferable.
In addition to the property in Lekki, we have also invested in another property in Lagos Island, which will serve as the permanent station for the QDance Center. Currently, we are renovating as we undergo a major expansion of our team to support our upscaling plan, codename QDance CREATES.
This plan includes the development of a robust community engagement program, a research lab for culture and technology, an educational program for dance and music production and practice, artistic residencies, and more international productions with the QDance Company, training exercises for dance in health, as well as entrepreneurship in dance programs, and services in entertainment consultancy, restaurant, and venue rentals.
Our activities will be housed in a four-level architectural masterpiece, where we will engage in both educational and community initiatives to nurture the next generation of dance artists.
The centre will be equipped with a 150-audience capacity theatre for live shows, four dance studios for full-scale rehearsals, four digital studios for audio-visual recording projects, which includes a Dance and AI lab for research in culture tech. In the media lab, we will equally develop software and hardware research to support the incredible work that creatives are doing on the continent.
In conclusion. Every great dreamer can paint a beautiful future with the colours of their passion, hard work, and determination, but it always takes a village to achieve any great feat. We are particularly excited to witness how our endeavours in the next one year will once again reshape the choreographic landscape of the continent and, by extension, the Nigerian creative economy.
We call upon dancers to take advantage of this investment as we announce our various offerings. We also invite other professionals to join our formidable management team. We always need skilled volunteers who can offer valuable time.
Finally, we extend our call to the general public, funders, and supporters who share our passion and vision, to partner and work with us, this is something epic and unprecedented, won't you rather be part of
a team that made history together?