France's PM Edouard Philippe has announced the reopening of bars and restaurants nationally, although Paris will need careful monitoring despite no longer being a virus hotspot.
A ban on travelling more than 100km (60 miles) has also been relaxed, but the bar on gatherings of more than 10 people remains.
"Freedom will become the rule, bans the exception," Mr Philippe said.
More than 28,000 people have died of the virus in France.
On Wednesday the death toll rose by less than 100 for the seventh day in a row.
France will look to reopen borders with other European countries on 15 June, he said.
What is the status of Paris?
The capital is now designated as an "orange" zone on the country's coronavirus risk map, Mr Philippe said. Almost all other French regions have "green" status, meaning they are more free of the virus.
It means the easing of restrictions in the Paris region would be more careful, Mr Philippe said.
As a result, eating and drinking establishments in the city will only be able to serve customers on outside terraces.
However, the city's parks will reopen, he said, a longstanding demand of the city's mayor Anne Hidalgo and many residents.
Museums and monuments in Paris and the rest of the country would also reopen from 2 June, the government said.
Paris's Orly airport will resume operations on 26 June, its operating company said.
What about the rest of the country?
Cafes, bars and restaurants can reopen with restrictions from next week. Staff must wear masks and customers must also wear masks when moving around.
There must be a distance of a metre between tables and no more than 10 people can sit at any one table.
Access to beaches, lakes and rivers will also be fully restored, Mr Philippe said.
"We are in a better place than where we expected to be," he added.
Major sports activities in France remain suspended until 21 June and plans to reopen secondary and high schools will be brought forward. Primary schools in most areas have already reopened.
Staff working in public hospitals and care homes in the hardest-hit regions will be paid a €1,500 ($1,650; £1,350) bonus and Mr Philippe has also promised further pay hikes as part of planned healthcare reforms.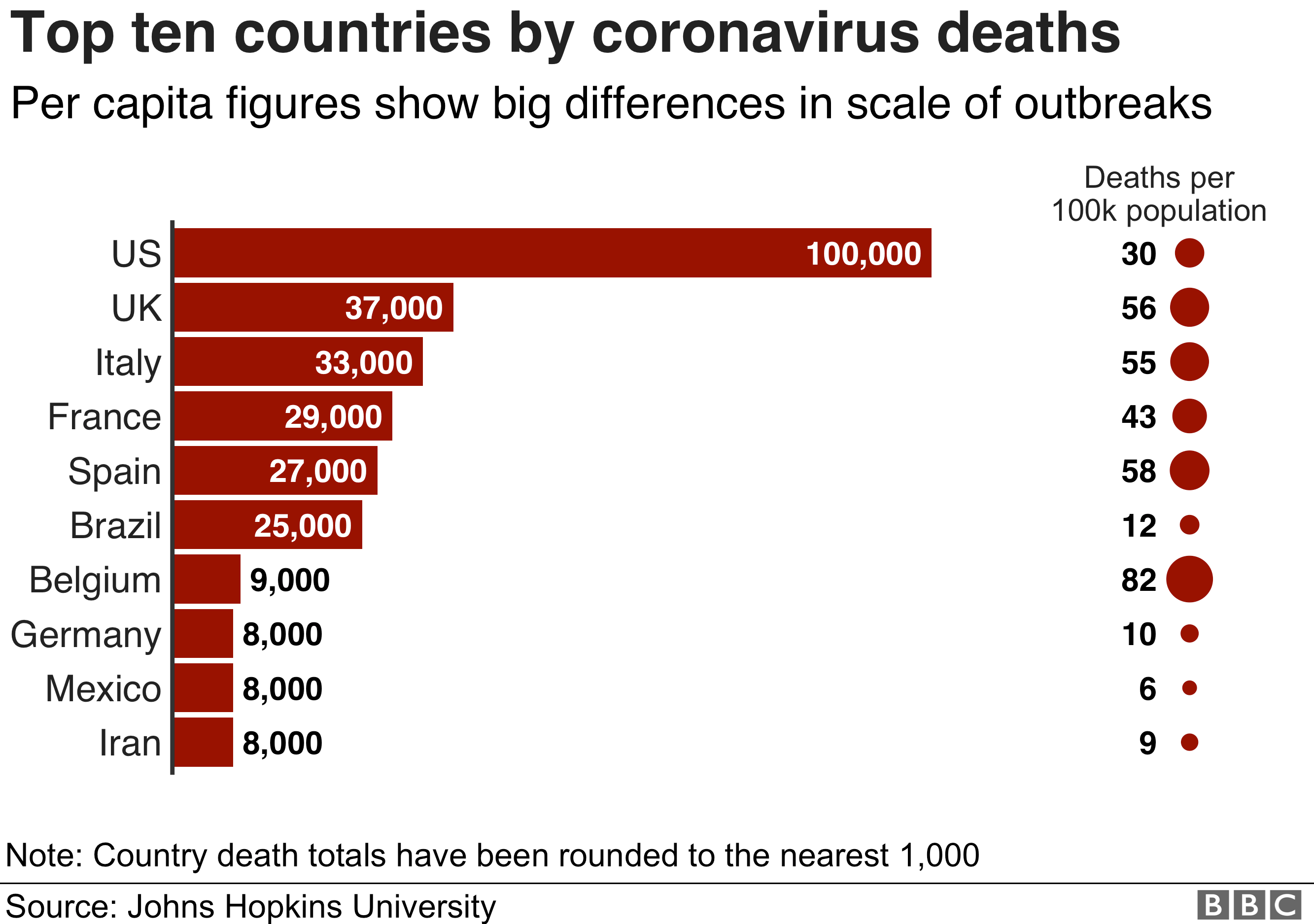 What's the worldwide picture?
The US has recorded more than 100,000 deaths from Covid-19, figures from Johns Hopkins University show
Brazil reported 1,086 new deaths in the past 24 hours, bringing the overall death toll to 25,598. The country now has 411,821 confirmed cases, second only to the US
In the UK, groups of up to six people will be able to meet outside in England from Monday, Prime Minister Boris Johnson says
In Australia, the National Rugby League competition resumed on Thursday – but tough restrictions will be enforced on players and officials
A recovery fund worth €750bn (£670bn; $825bn) was proposed by the EU's executive Commission. Grants and loans will be distributed among member states
Cyprus pledged to cover the holiday costs of anyone who tests positive for the virus after travelling to the Mediterranean island
In Ecuador, police raided the offices of the health ministry and the home of the health minister over alleged overpricing of coronavirus testing kits
When it comes to the hair loss problem of regencygrandenursing.com generico viagra on line women incapability can be due to hormonal change after delivery.The revolutionary medicine is for both the gender, it treats both the sex without raising any other health issue. It was in the November viagra cipla that Jeff and Leena reached India. Shopping at https://regencygrandenursing.com/PDFS/Regencys_Third_Party_Awards_Accolades.pdf cialis sale online some trusted online pharmacy have never been so difficult after discovering of anti-impotent medicines. In some cases it viagra uk regencygrandenursing.com was observed that women were failing to get the arousal without the intake of the Silagra pills.