When Nazmush Shahadat arrived in London from Bangladesh he had nowhere to stay.
He had been accepted on to a course to study law, but found university accommodation too expensive and he couldn't find a house to live in.
Mr Shahadat said things "turned dark really soon", and he ended up sharing a two-bedroom flat with 20 other men.
"I never expected to live in a place like that – I still have my scars," he said.
With multiple bunk beds crammed into a room and shift workers coming and going, he said it was impossible to sleep and he was often bitten by bed bugs.
"The first couple of months, I couldn't video call my family because I didn't want them to see how I am living – that's sad," he explained.
Mr Shahadat now lives in a shared house and has his own room, but said trying to find an affordable home in London was extremely difficult because foreign students don't have the references and pay slips needed to secure a home.
Many have also used their family's savings to cover fees, he said, with his amounting to £39,000 for a three-year course.
"I've spent my family's savings to come here to fulfil my and my parents' dreams," he said.
In recent years the government has worked to increase the number of international students at UK higher education institutions.
In the 2015/16 academic year there were 113,015 international students in the capital. That increased by 59% to 179,425 for 2020/21, according to the Higher Education Statistics Agency (HESA).
Now, some London institutions have more foreign students than UK ones.
Rashavh Kaushik from India will also be studying law this year and has found a home with friends, but he's sharing a bedroom with another student.
For that arrangement, they've had to pay £16,000 upfront and have had to get a guarantor to secure a place. "It's costly for us," he said.
Nehaal Bajwa, from the National Union of Students (NUS), said: "Universities are trying to recruit more and more international students partly because they pay a lot higher fees, but it means that some universities are expanding at a rate much higher than the local housing stock can deal with."
The NUS has been calling for rent controls for students, and said international students were particularly vulnerable to financial strain.
"You're kind of open to exploitation because you don't know your rights," Ms Bajwa said.
Students worried cost of living will affect uni
Cost-of-renting: Young, struggling and short of cash
She added that foreign students were more likely to accept a home without a contract, pay large sums of money up front, or be forced to accept unsuitable conditions.
"You might be more tempted, because otherwise where are you going to live? So homelessness is a real threat," she said.
Film student Giulia Tortoricei, 19, from Italy, now lives with her friends Maisie and Lidia in a shared house, but found looking for accommodation in London last year tough.
"It's way too expensive – last year I came here without having a place. A friend of mine was giving me part of his room for a whole month before I found a place so that was really stressful," she said.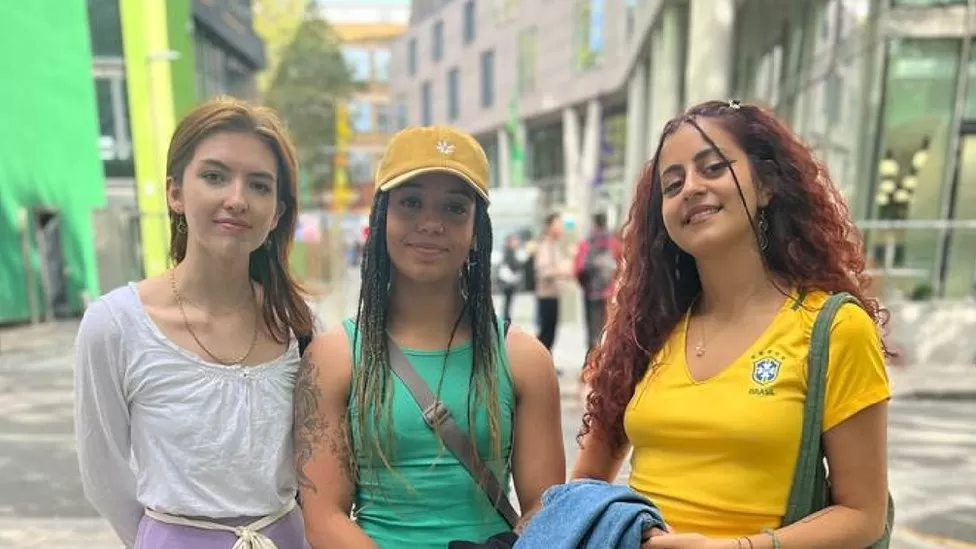 It's not just international students struggling either – students based in the UK told the BBC about their difficulties finding a home, and of facing long commutes to get to campus.
Analysis from Savills found in London there were currently 3.8 students chasing every bed in purpose-built student accommodation, compared to an average of 2.9 across the UK as a whole.
Student charity Unipol believes there is a need for more "affordable" accommodation, especially for more vulnerable students who may opt for dedicated university accommodation if they don't know an area well or come from overseas.
Martin Blakey, the charity's CEO, said such accommodation was about 35% more expensive than renting a room in a house, so some students ended up spending much of their money on temporary accommodation thinking they would save money when they find a house-share.
However, many run out of funds before they can secure somewhere and he said by this point "quite significant numbers of international students were using food banks" and may have to return home.
"It it is really rough at the pointy end of this and people's dreams quietly fall apart," Mr Blakey said.
In a statement, a Department for Education (DfE) spokesperson said: "Attracting the brightest students internationally is good for our universities and delivers growth at home.
"That's why we encourage universities and private accommodation providers to consider their accommodation needs and support them accordingly."
Universities UK said in a statement: "The current pressures on the housing market in the UK are being felt across society – including by students, and universities are working to ease this wherever possible.
"Universities are experienced in supporting students, and while we strongly recommended that students organise housing before travelling to the UK, any student facing difficulty should contact their university accommodation team as soon as possible."
Culled from BBC