After last week's beautiful surprise for D'banj, fans may be spoilt for surprises. This wonderment may not be far-fetched since Nigerian Idol has pulled some pretty awesome surprises over the past three years. These surprises have either been gleeful or emotional. So, it begs the question – Are the organisers about to pull yet another surprise, or will it be business as usual this Sunday?
In 2021, Nigerian Idol surprised fans with guest judges almost every other week. The producers crowned it with surprise performances from Cobhams (who took the stage with season 6 winner Kingdom Kroseide) and Chike (who performed alongside runner-up Francis Atela) at the finale.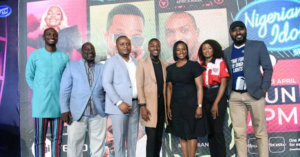 In 2022, they tugged at everyone's heartstrings when they surprised Simi with a special birthday celebration on the live show. Perhaps, the best part of the surprise was Adekunle Gold, her superstar and award-winning husband, bringing out her birthday cake with a beautiful song and the sweetest words.
They replicated the dazzle again just last week Sunday as the producers, co-judges Obi and Simi, Nigerian Idols – Progress Chukwuyem and Kingdom, and the contestants surprised D'banj with a beautiful celebration of his birthday. The legendary performer didn't predict Kingdom and Progress performing his birthday song. He was thoroughly surprised and delighted.
As Father's Day comes up this Sunday, fans and commentators wonder if we can expect another surprise and quietly hope the answer is a whooping yes. So over to Nigerian Idol organisers – Is this Sunday going to be a celebration?