Cardi B never fails to turn heads in an outing and she ensured all eyes would be on her as she demonstrated her twerking skills for bemused onlookers outside her hotel in France on Wednesday.
The 30-year-old rapper has been making her way around the shows during Paris Haute Couture Fashion Week and opted for her third outfit of the day in a skintight jumpsuit that showed off her incredible curves.
The Jean Paul Gaultier one-piece cinched in at her slender waist and highlighted her famous figure while she added glamour with chunky necklaces.
Cardi completed the look with a pair of barely-there silver heels and by styling her raven locks loose.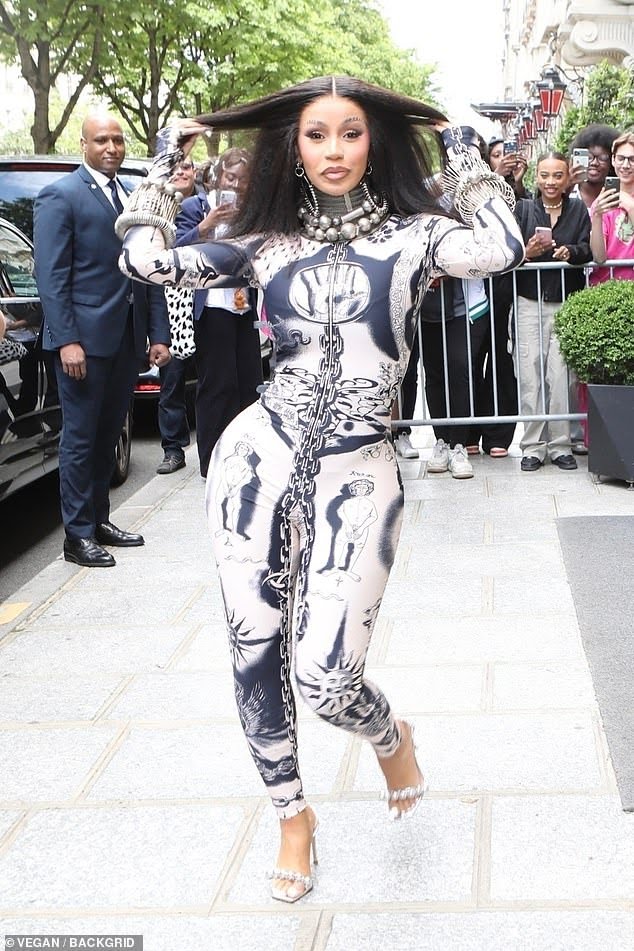 Earlier in the day, Cardi was seen attending the Balenciaga show with her husband Offset, with a source telling MailOnline: 'Cardi and Offset's Paris trip is a little business with a lot of pleasure.
'Offset attended the Balenciaga couture show in Paris and Cardi has been hitting up all the shows. She is such a muse for designers, and everyone loves a good rags to riches story.
'Her fan base in France is enormous and they are both really taken aback by this.
'Aside from attending fashion shows, Cardi and Offset are using this as an opportunity to spend some quality romantic and intimate time together – away from the stress of their busy schedules.'
It comes amid reports the couple 'will hash their problems out as they always do' according to a new report – after he claimed she cheated on him – sparking a furious row.
Offset's now-deleted post on Monday – which came hours after he reunited with Quavo at the BET Awards – read: 'My wife f****d a n**** on me gang yall n***** know how I come.'
Cardi then hit back at Offset's claim with a bizarre Twitter rant in which she accused her 'motherf****r' spouse of 'spiraling.'
An insider has now told People: 'They're just having a little quarrel. They're very intense so go back and forth quite a bit. They'll hash it out like they always do.'
Paris Fashion Haute Couture Week kicked off on Monday, but the city has been rocked by a week of violent protests after Nahel M was shot dead in a Parisian suburb on Tuesday.
Celine cancelled their menswear show – which was outside the official calendar – on Sunday due to the chaos as shops were looted, cars were set on fire and fights broke out in the street.
Celine designer Hedi Slimane said it was 'inconsiderate' to hold a fashion show when Paris was 'bereaved and bruised'.
Thousands have been arrested since the protests began, with some 45,000 officers deployed across the country to try and quell the unrest.
Sunday night saw the intensity of the protests abate somewhat, with the grandmother of teen shooting victim Nahel M. appealing to citizens to demonstrate peacefully and stop the violence.
But tensions remain fraught, particularly in the suburbs of cities like Paris, Marseille and Lyon