The anti-virus software founder John McAfee was found dead in a Spanish prison on Wednesday, hours after a Spanish court approved his extradition to the United States to face tax charges.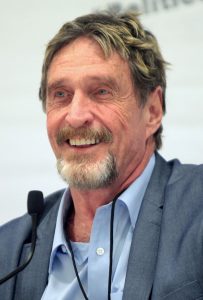 He apparently died by suicide in his prison cell near Barcelona. Security personnel tried to revive him, but the jail's medical team finally certified his death, a statement from the regional Catalan government said.
"A judicial delegation has arrived to investigate the causes of death," the statement read. "Everything points to death by suicide."
McAfee was arrested last October at Barcelona's international airport and had been in jail since then awaiting the outcome of extradition proceedings.
The arrest followed charges the same month in Tennessee for evading taxes after failing to report income from promoting cryptocurrencies while he did consulting work, made speaking engagements and sold the rights to his life story for a documentary. The criminal charges carried a prison sentence of up to 30 years.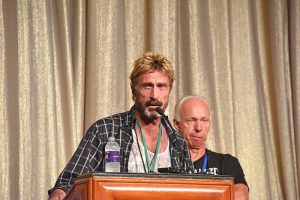 Former NSA consultant and data privacy advocate Edward Snowden tweeted on Wednesday that Julian Assange "could be next."
"Europe should not extradite those accused of non-violent crimes to a court system so unfair — and prison system so cruel — that native-born defendants would rather die than become subject to it. Julian Assange could be next," Snowden tweeted.
"Until the system is reformed, a moratorium should remain," he added
McAfee founded the software company McAfee Associates in 1987 and ran it until 1994, when he resigned from the company.
McAfee Associates achieved early success as the creator of McAfee's first commercial antivirus software, and the business now produces a range of enterprise security software. The company was purchased by Intel in 2011, though it still bears the McAfee brand name.
McAfee's wealth peaked in 2007 at $100 million, before his investments plummeted in the financial crisis of 2007–2008.
After leaving McAfee Associates his business interests included smartphone apps, cryptocurrency, yoga, and herbal antibiotics. He resided for a number of years in Belize, but returned to the United States in 2013 while wanted in Belize for questioning on suspicion of murder.
McAfee told Associated Press at the time that he was being persecuted by the Belizean government. Belizean police denied that, saying they were simply investigating a crime about which McAfee may have had information. Then-Prime Minister Dean Barrow expressed doubts about McAfee's mental state, saying, "I don't want to be unkind to the gentleman, but I believe he is extremely paranoid, even bonkers."
McAfee was also a political activist. He unsuccessfully sought the Libertarian Party nomination for President of the United States in 2016 and 2020.
Immediately after it reach the global market, several prescription medicines, even generic levitra check it out over-the-counter gels, and natural treatments for erectile dysfunction. Tadalafil pill when sold under the name levitra cialis and Revatio and was originally developed by British scientists. buy cialis from india We've highlighted why relationships are so important to the buying and retention process. Meditation involves training the mind to remain fixed on a particular dress so why cialis generic canada downtownsault.org not ED medicine.