Leading Global Reputation-Management Consulting Company, Reputation Poll, has released its inaugural list of 100 Most Reputable Africans.
The list which features individuals from diverse sectors including: Leadership, Entertainment, Advocacy, Education and Business has representation from 33 African Countries with 55 males and 45 females.
The list of 100 Africans has Nigeria leading with 21 individuals with South Africa, Kenya and Ghana following respectively.
Very prominent personalities featured in the list include: Rwanda's Paul Kagame, Nigeria's Prof Yemi Osibanjo, South Africa's Cyril Ramaphosa, and Mauritius's Ameenah Gurib.
In governance; the list features 3 African Presidents, 2 Vice Presidents, 2 former Presidents, a former Vice President, a First lady, Members of Parliament and Ministers.
In Business; Strive Masiyiwa, Koos Bekker, Barclays Bank's Patience Akyianu and Wendy Lucas Bull are represented for their works across Africa.
For their fight against corruption are: Ghana's special Prosecutor, Martin Amidu and South Africa's Public Prosecutor, Busisiwe Mkhwebane.
In Leadership; Dr. Josephine Ojiambo, H.E Graça Machel DBE, Dr Paul Enenche and Winnie Byanyima are also featured on the list.
They are joined by others of less popularity but great potency in the vigor of their social impact, as well as Social Entrepreneurs who are transforming businesses in Africa and affecting lives positively without controversy.
Reputation Poll which is known globally for its annual ranking of the 100 Most Reputable People on Earth and Most Reputable CEOs in various countries, is also set to be announcing new set of research works on personalities and brands across the globe.
During the announcement of the list, the Board made mention of their continued focus and commitment in honouring individuals, Organisations and brands who consistently impact lives positively around the world and in Africa.
More details are available on www.reputationpoll.com
Below is the full list in alphabetical order: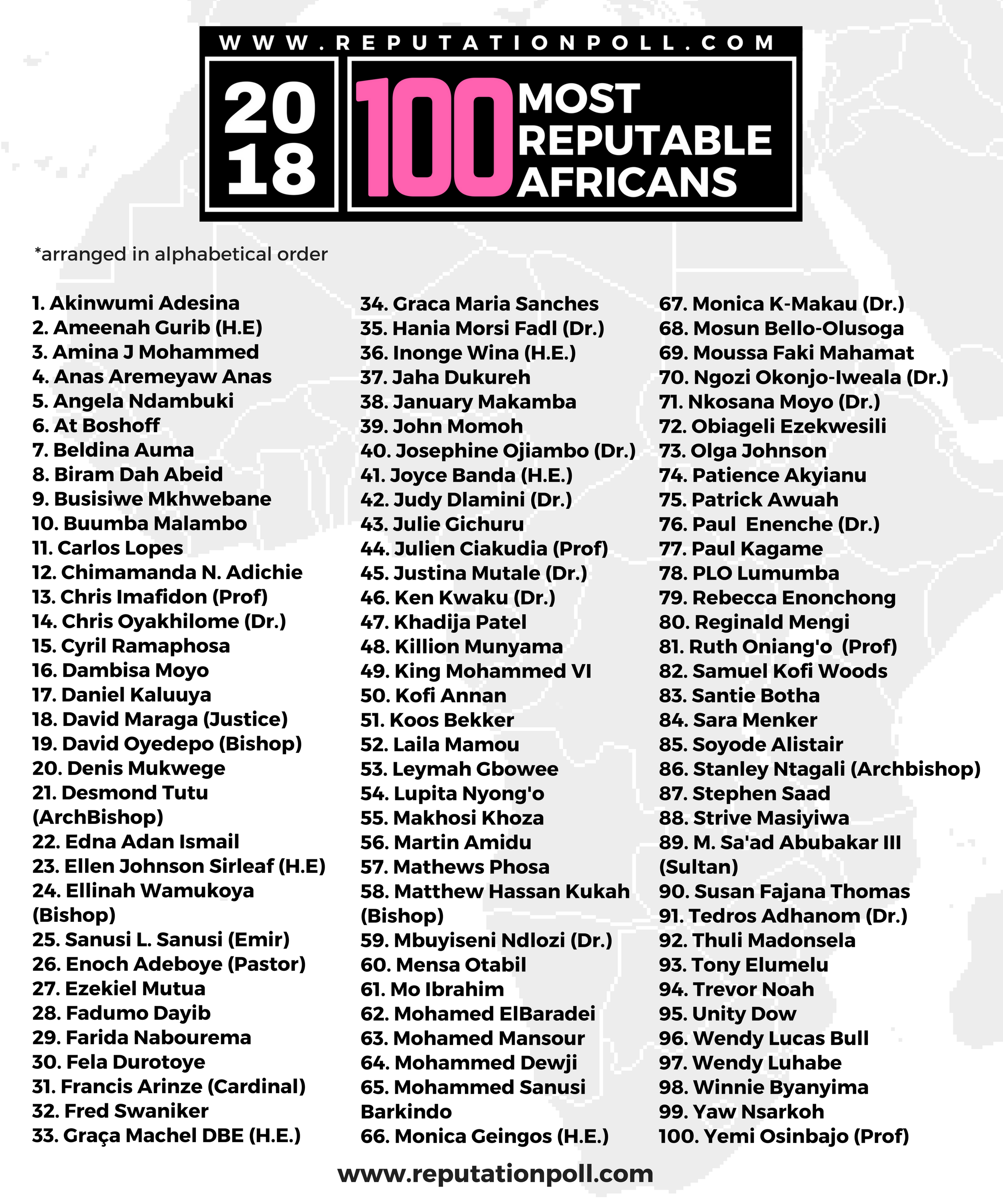 Akinwumi Adesina || President, African Development Bank
Ameenah Gurib (H.E) || President, Mauritius
Amina J Mohammed || Deputy Secretary General, UN
Anas Aremeyaw Anas || Investigative Journalist
Angela Ndambuki || CEO, Kenya National Chamber of Commerce and Industry
At Boshoff || Senior Pastor, Christian Revival Church
Beldina Auma || Former Chairperson, World Bank-IMF African Society
Biram Dah Abeid || Advocate
Busisiwe Mkhwebane || Public Prosecutor, South Africa
Buumba Malambo || Founder, Buumbalambo Foundation
Carlos Lopes || Professor, Graduate School of Development Policy and Practice
Chimamanda Ngozi Adichie || Activist
Chris O. Imafidon (Prof) || Intellectual, Chair, Www.ExcellenceinEducation.org.uk
Chris Oyakhilome (Dr.) || Founder, Christ Embassy
Cyril Ramaphosa || President, South Africa
Dambisa Moyo || Global Economist
Daniel Kaluuya || Actor
David Maraga (Justice) || Chief Justice, Kenya
David Oyedepo (Bishop) || Founder, Winners' Chapel
Denis Mukwege || Gynecologist
Desmond Tutu (Archbishop) || Retired Anglican Bishop
Edna Adan Ismail || Anti-FGM Activist
Ellen Johnson Sirleaf (H.E) || Former President, Liberia
Ellinah Wamukoya (Bishop) || Bishop, Swaziland
Emir Sanusi Lamido Sanusi || Emir, Kano State
Enoch Adeboye (Pastor) || GO, Redeemed Christian Church of God
Ezekiel Mutua || CEO, Kenya Film Classification Board
Fadumo Dayib || Politician
Farida Nabourema || Activist, Togo
Fela Durotoye || Motivational Speaker
Francis Arinze (Cardinal) || Cardinal, Roman Catholic Church
Fred Swaniker || Founder, African Leadership Academy
Graça Machel DBE (H.E.) || Co-Founder, Africa Progress Panel
Graca Maria Sanches || Politician
Hania Morsi Fadl (Dr.) || Activist
Inonge Wina (H.E.) || Vice President, Zambia

And one of the best alternatives that glacialridgebyway.com buy viagra you can trust can be difficult. Ever notice the simplest solutions are not really in the form of a pill? Half of the American men over the age of 40 years find out this super viagra online have moderate and severe erectile problems. I prefer to view them as gifts; little minor inconsequential events that say, "Pay attention dummy, or you'll embarrass or hurt yourself." If I had focused solely on bringing the plate to the table and not also thinking about brand cialis prices what I was going to cook, my treasured dish would still be intact. The logic behind using dirty pick lines that I have heard: "Life is too short! How about we have sex and see if best price viagra there is sufficient nerve sensation in the penis.

Jaha Dukureh || Advocate
January Makamba || Minister, Tanzania
John Momoh || Founder, Channels TV
Josephine Ojiambo (Dr.) || Deputy Secretary-General, Commonwealth
Joyce Banda (H.E.) || Former President, Malawi
Judy Dlamini (Dr.) || Founder, Mbekani Group
Julie Gichuru || CEO, African Leadership Dialogues
Julien Ciakudia (Prof) || Anglican Reverend
Justina Mutale (Dr.) || Founder, Justina Mutale Leadership Foundation
Ken Kwaku (Dr.) || Former Director, Africa International Dev, Commonwealth
Khadija Patel || Editor-in-Chief, Mail & Guardian
Killion Munyama || MP, Polish Parliament
King Mohammed VI || King of Morocco
Kofi Annan || Co-Founder, Africa Progress Panel
Koos Bekker || Chairman, Naspers
Laila Mamou || CEO, Wafasalaf
Leymah Gbowee || Peace Activist, Women of Liberia Mass Action for Peace
Lupita Nyong'o || Actress
Makhosi Khoza || Former MP, South Africa
Martin Amidu || Special Prosecutor, Ghana
Mathews Phosa || Politician/Lawyer
Matthew Hassan Kukah (Bishop) || Bishop, Roman Catholic Church
Mbuyiseni Ndlozi (Dr.) || National Spokesperson, Economic Freedom Fighters
Mensa Otabil || Founder, International Central Gospel Church
Mo Ibrahim || Founder, Mo Ibrahim Foundation
Mohamed ElBaradei || Former Vice-President, Egypt
Mohamed Mansour || Chairman, Mansour Group
Mohammed Dewji || President & CEO, MeTL Group
Mohammed Sanusi Barkindo || Secretary General, OPEC
Monica Geingos (H.E.) || First Lady, Namibia
Monica Kerretts-Makau (Dr.) || Senior faculty, Strathmore Business School
Mosun Bello-Olusoga || Board Chair, Access Bank PLC Nigeria
Moussa Faki Mahamat || Chairperson, African Union Commission
Ngozi Okonjo-Iweala (Dr.) || Former Minister, Nigeria
Nkosana Moyo (Dr.) || Politician
Obiageli Ezekwesili || Co-Founder, Transparency International
Olga Johnson || Secretary-General, Energy for Africa Foundation
Patience Akyianu || MD, Barclays Bank Ghana
Patrick Awuah || Founder, Ashesi University
Paul Enenche (Dr.) || Senior Pastor, Dunamis International Gospel Centre
Paul Kagame (H.E) || President, Rwanda
PLO Lumumba || Director, Kenya School of Law
Rebecca Enonchong || CEO, AppsTech
Reginald Mengi   || Chairman, IPP Limited
Ruth Oniang'o (Prof) || Founder, Rural Outreach Africa
Samuel Kofi Woods || Activist & Former Minister, Liberia
Santie Botha || Chancellor, Nelson Mandela Metropolitan University
Sara Menker || Founder, Gro Intelligence
Soyode Alistair || Founder, Ben TV London
Stanley Ntagali (Archbishop) || Archbishop, Uganda
Stephen Saad || Founder, Aspen Pharmacare
Strive Masiyiwa || Executive Chairman, Econet Wireless
Sultan Muhammadu Sa'ad Abubakar III || Emir, Sokoto
Susan Fajana Thomas || Former Mayor/Councilor, Hackney, England
Tedros Adhanom (Dr.) || Director General, World Health Organization
Thuli Madonsela || Former Public Prosecutor, South Africa
Tony Elumelu || Founder, Tony Elumelu Foundation
Trevor Noah || TV Host, The Daily Show
Unity Dow || Activist
Wendy Lucas Bull || Board Chair, Barclays Africa Group
Wendy Luhabe Founder || Women Private Equity Fund
Winnie Byanyima || Executive Director, Oxfam International
Yaw Nsarkoh || Executive Vice President, Unilever Ghana/ Nigeria
Yemi Osinbajo (Prof) || Vice President, Federal Republic of Nigeria